BOSTON — There are many methods a manager will use to write a lineup, from mining data for the right matchups to placing hitters for protection to pulling names out of a hat, as Cardinals manager Oliver Marmol joked this weekend he might do. (He didn't.)
The best remains when performance guides the pen, and a lineup reveals itself.
That's what led to Tommy Edman returning to leadoff this season, what crystallized as Tyler O'Neill thrived at the No. 3 spot last season, and what's happening now as the Cardinals' lineup looks different than designed but its production looks like they imagined. A show of force early followed by sustained pressure late lifted the Cardinals to a 11-2 victory Saturday night against Boston at Fenway Park. The Cardinals got three homers from the middle of the order, three hits each from two outfielders, and a six-run sixth inning.
Marmol wrote out the same lineup two consecutive games at Fenway, and in their past 10 innings against the Red Sox that group has scored 16 runs.
"I think that's our best lineup," Marmol said.
Back at the cleanup spot, Nolan Arenado homered for the second consecutive game and had three RBIs on Friday. Nolan Gorman and Tyler O'Neill followed with home runs to dead-center field, batting fifth and sixth, respectively. All three are in different lineup spots than when they started this season. What's helped unlock this look of the lineup is rookie Brendan Donovan's movement to No. 2, stacking one more hitter with a knack for getting on base ahead of Paul Goldschmidt and Arenado.
From there the lineup's evolution radiates to Gorman at fifth and O'Neill at sixth, giving the Cardinals a left-right combo of a light-tower power when they connect. Combined, they had 850 feet of home runs Friday to the view-askew seats in center at Fenway. Length follows with switch-hitter Dylan Carlson and, hitting eighth or ninth, Harrison Bader. He saw 20 pitches in his five at-bats, connected on three of them for hits.
"Guys earn their spot, where they are," assistant hitting coach Turner Ward said late Saturday at Fenway. "When the offense is starting to click together and run on all cylinders, making pitchers work – really that's what you want to do. Hits are hard. But wearing them down, fighting off good pitches, battling. That's been a common (theme). We want to make those pitchers earn every pitch and I see us getting better and better at that.
"Lineups start building character on their own."
The Cardinals began the game with the fifth-most runs in the majors and a top six offense by other measures, such as on-base percentage and average. They had the second-lowest strikeout rate in the majors. Goldschmidt was the engine that drove the offense to those heights, but to stay there they'll need to depth peeking through the box scores from Boston.
The newest look for the lineup was clear Friday afternoon when Arenado took the field with a tighter, shorter haircut. He let the flow go. It was too hot and uncomfortable in the near-100-degree temps in St. Louis, so he buzzed it. All that's heating up now is his swing. Frustrated by his June and enthusiastic in his praise for teammate Goldschmidt, who won the league's Player of the Month award in June, Arenado has gone green in back-to-back games at Fenway. He launched a home run that would have left the ballpark completely if not for a billboard rising above the Green Monster.
In the first inning Friday, Goldschmidt laced a two-out single and Arenado followed with a two-run homer – again over the 37-foot tall wall in left field.
Carlson added an RBI double in the second inning for the first of five runs scored by the back half of the Cardinals' lineup. And in the fourth, Gorman led off with a home run against Red Sox starter Kutter Crawford. The bolt left Gorman's bat at 107 mph, cleared the 17-foot wall in center, and traveled an estimated 440 feet from home plate.
"You don't see that a whole lot," Ward said. "I can remember the last time I saw a ball out there. It was John Olerud off of Roger Clemens. You just don't see that often. It's rare to go out there. To go up there up there up there – that is a feat."
Said Arenado: "Gorman has got juice."
The win was the first time both Nolans homered in the same game and a gave as sense of how they've gravitated toward being back-to-back in the lineup. Arenado has been candid as a Cardinal about his preference hitting cleanup, and the offense had its late-season surge in 2021 when he returned to cleanup and O'Neill found a home bookended between Goldschmidt and Arenado. Marmol could plant Gorman at No. 2 and get him more at-bats against right-handed pitching because teams will be reluctant to use a lefty with a three-batter minimum that assures either Edman or Goldschmidt get a swing.
But with Donovan batting .326 after going zero-for-five Friday and starting the day with as many walks (22) as strikeouts (22) in the majors, the Cardinals want him to get as many chances ahead of Goldschmidt as possible.
That puts Gorman in the spot to clear the table, not set it.
"As a guy in the five hole," the rookie said, "you're going to have some pop."
In the past two games, the Cardinals have had innings of five and six runs, and combined they featured a solo home run. The Cardinals' five-run rally in the ninth inning Friday fell shy of tying the game, but all of the runs and all four extra-base hits came with two outs. Edman and Donovan atop the lineup had back-to-back doubles and three RBIs. In the sixth inning, Saturday the Cardinals exploited three walks and one error to send 12 batters the plate.
Eight had a run or an RBI.
O'Neill got both with his 410-foot mash to center field. But the back end of the lineup kindled the runs to come with two walks and Bader's infield single. Edman, Goldschmidt, and Arenado followed with RBI singles, widening the Cardinals lead from two runs to eight.
"That is the depth that we talked about," Marmol said. "A lot of the guys are putting it together at the right time."
The burst of offense came immediately after Dakota Hudson finished his fifth and final inning. The Cardinals' right-hander allowed a season-high five walks, three of them going to the bottom three batters in Boston's lineup to load the bases. Hudson teed up the football for the Red Sox to kick off a rally – and then yanked it back. He had walked two batters on four pitches, three in the span of 16 pitches before landing a sinker to get an inning-ending groundout.
By the end of the sixth inning, every spot in the Cardinals lineup had scored at least a run.
Andrew Knizner drove home O'Neill with a ground-rule double in the ninth to give O'Neill three runs in the game and seven spots in the order at least one RBI.
The 11 runs were the most a Cardinals team scored in a regular-season game at Fenway, one shy of the dozen the Swifties scored in Game 4 of the 1946 World Series. That game was the first in a World Series that three teammates had at least four hits each. Stan Musial was not one of them. That's some depth.
"It's good to see it come together," Arenado said. "We have great baserunning – not just steals, but turning bases, the little things. We have a little bit of power, not as much power as all teams, some of the really good teams, like the Yankees. We're starting to have those really quality at-bats, working counts, making pitchers work a little harder, and we do that with the pitching and defense we have – that's a really good team."
Photos: Cardinals rout Red Sox in second game of Fenway series
Cardinals Red Sox Baseball
Cardinals Red Sox Baseball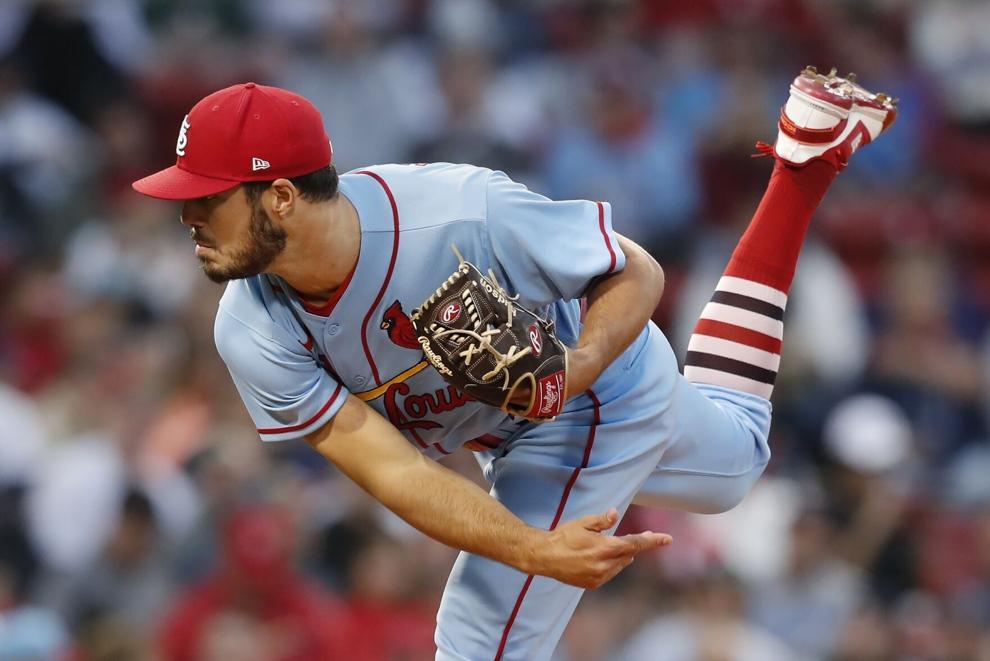 Cardinals Red Sox Baseball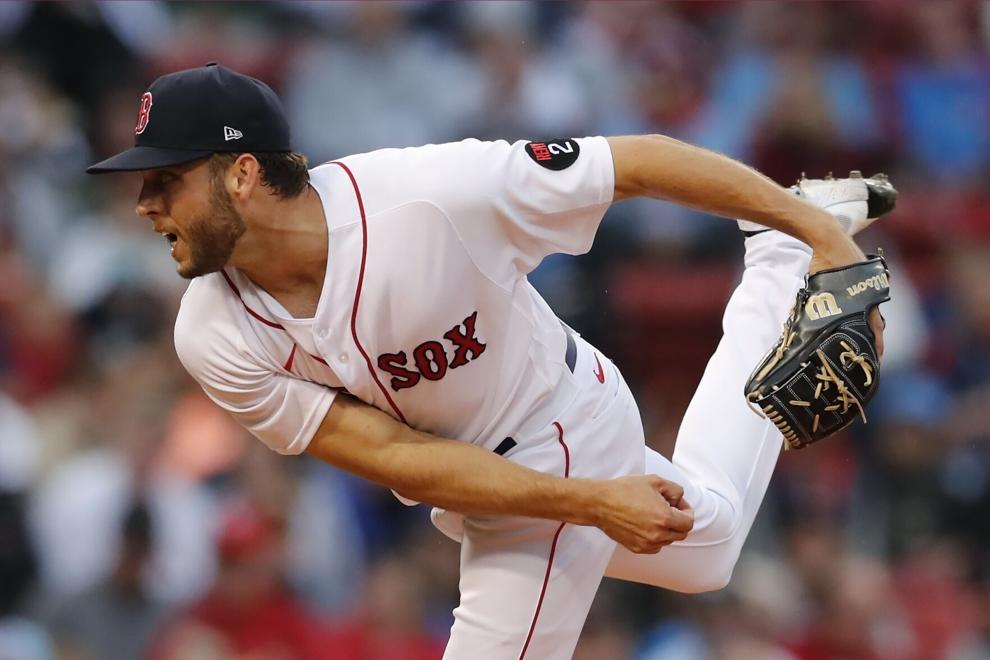 Cardinals Red Sox Baseball
Cardinals Red Sox Baseball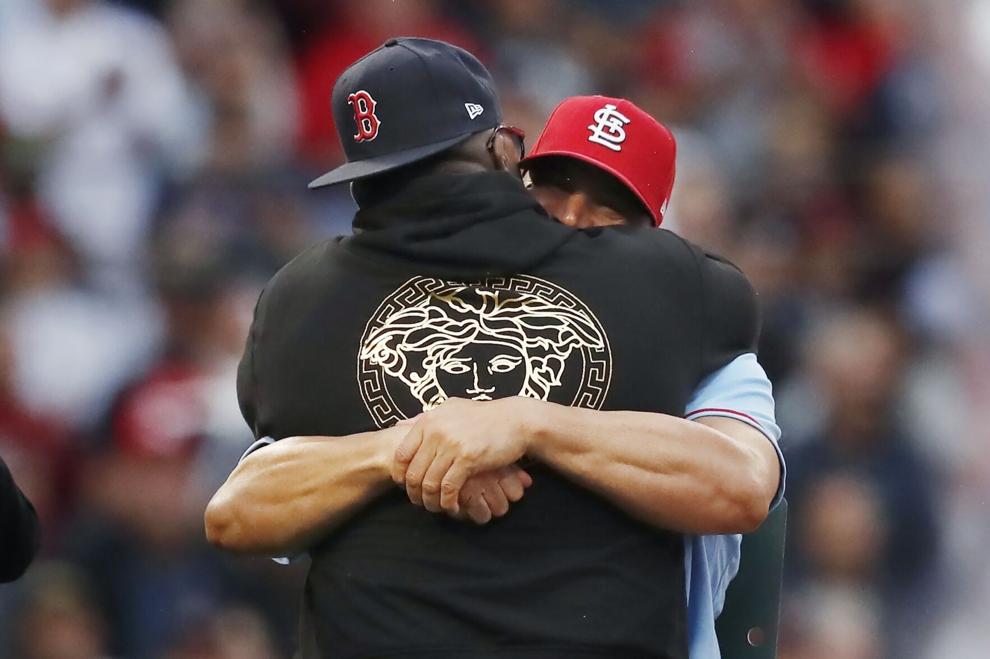 Cardinals Red Sox Baseball
Cardinals Red Sox Baseball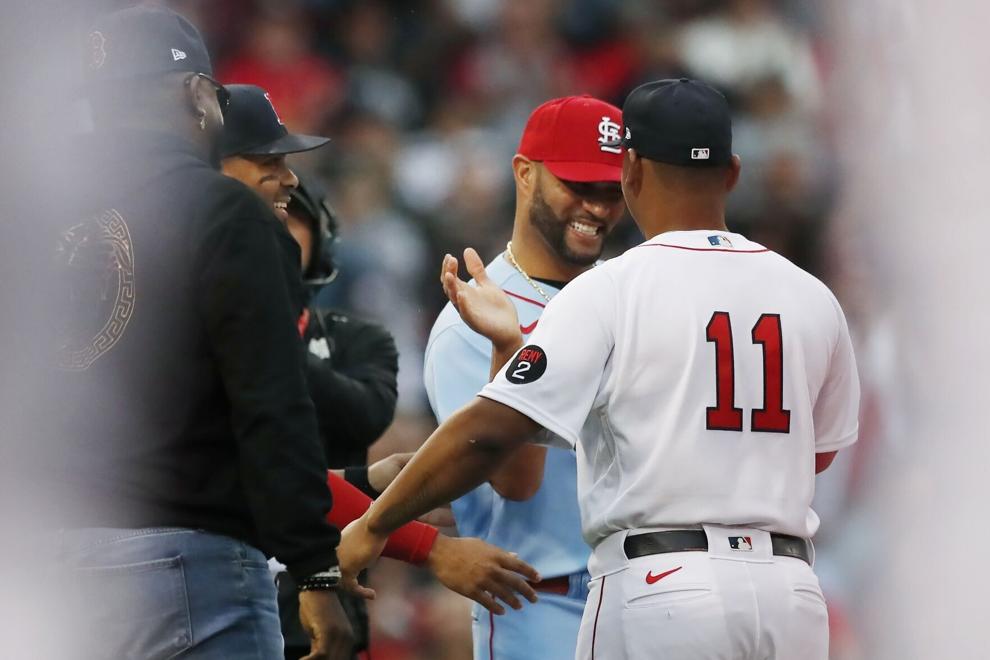 Cardinals Red Sox Baseball
Cardinals Red Sox Baseball
Cardinals Red Sox Baseball
Cardinals Red Sox Baseball
Cardinals Red Sox Baseball
Cardinals Red Sox Baseball
Cardinals Red Sox Baseball
Cardinals Red Sox Baseball
Cardinals Red Sox Baseball
Cardinals Red Sox Baseball
Cardinals Red Sox Baseball
Cardinals Red Sox Baseball
Cardinals Red Sox Baseball