Two-time US Open champion Pat Rafter says Ash Barty didn't want to reset her goals so made the right call in retiring from tennis.
Rafter told 3AW on Wednesday that he backed Barty's decision because it was clear she wanted to enjoy other parts of life beyond tennis after winning Wimbledon, Roland Garros and the Australian Open.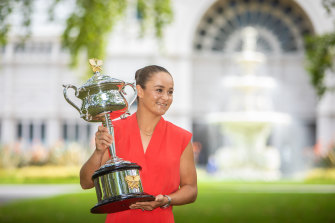 He joked that he had heard in recent weeks about Barty's plans and when his phone started buzzing on Wednesday he knew the news had come out.
"She doesn't want to play tennis any more," Rafter told 3AW.
"She wants to have a life. She wants to live life. Tennis is a part of the journey and we are lucky to play it professionally and it pays well but you have a career that only lasts for a certain time and while her career could be longer, she decided it is not for her.
"She wants to get married in the next couple of years, possibly have a family. Do the regular things that people do like go to the pub on a Friday night to watch the footy or play golf on the weekend.
"I'm presuming that is the way she is thinking and I'm really happy for her."
Rafter added that Barty was right to retire if she didn't want to train hard and travel the world.
"Absolutely. It's the right decision because it is her decision," Rafter said.
"She is really happy with that. I know she has certain goals and she has met them. Now she doesn't want to reset them and train hard and travel. The world is also a different place than it was a few years ago.
"From what I know of Ash, she has probably been thinking about this for quite a while."
While Barty is retiring at a young age, Rafter said he expected Barty would continue to earn good money from endorsements and other appearances in the years to come.
"Money is nice. It has given her a lifestyle she wants to live as long as it's not too opulent but she is a pretty level girl and she has made enough money for her lifestyle," Rafter said.
"I'm sure she will be very savvy with that and continue to earn good money for the next 5-10 years as she is a big name.
"She will be right."