For years, Barbados has been seeking reparations from the colonial powers that unleashed the horrors of slavery on its people for nearly four centuries. 
However, now the Caribbean nation is not just focusing on countries and institutions, but on rich descendants of individual slave owners. 
Among the potential targets is the family of Benedict Cumberbatch. 
The Oscar-nominated actor has built a lucrative and successful career playing Sherlock Holmes and Dr Strange, amid other characters. 
However, his family's name has far more sinister legacy. 
Benedict's ancestor, Abraham Cumberbatch, purchased a sprawling sugar plantation on the island in 1728. 
It's believed more than 250 enslaved people toiled on the estate over a century, making the Cumberbatches one of the richest families in Britain at the time. 
Now, 189 years after the family sold the plantation, his descendants may be required to pay compensation for the sins of the past. 
The 'jewel' in the crown of the British slave trade
In 1627, when English colonisers arrived in Barbados, they slaughtered the local Indigenous inhabitants and claimed the island for themselves. 
Barbados quickly became the "jewel" in the crown of the British Empire's slave economy.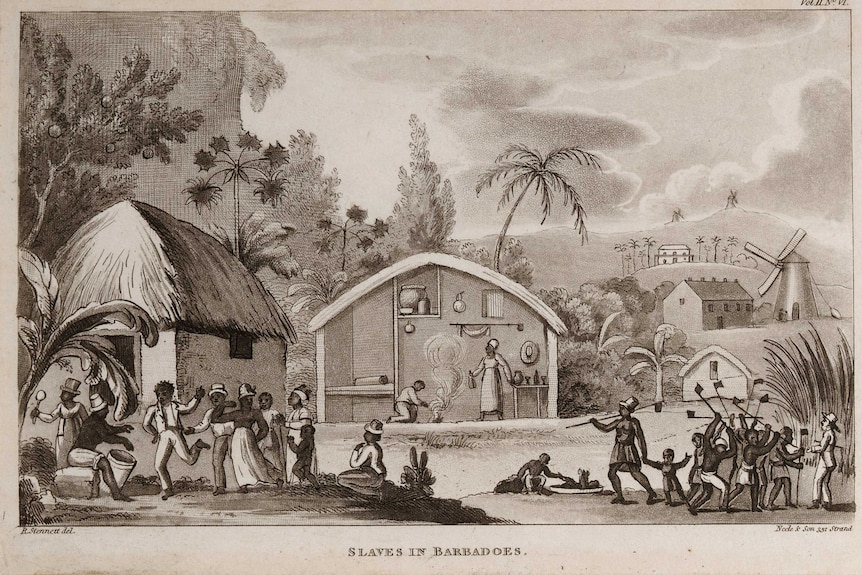 "Barbados was the birthplace of British slave society and the most-ruthlessly colonised by Britain's ruling elites," Barbadian historian Sir Hilary Beckles wrote in 2016. 
"They made their fortunes from sugar produced by an enslaved, 'disposable' workforce, and this great wealth secured Britain's place as an imperial superpower and caused untold suffering."
The slave trade saw millions captured in West Africa and shipped to the Caribbean, where they toiled in brutal conditions for the rest of their lives. 
Those lives were usually short and miserable. 
"Stress and abuse, coupled with disease and malnutrition, culminated in high mortality and replacement," anthropologist Kristrina Schuler wrote of the Barbados slave trade.
A so-called "Common Cage" was built in the capital, Bridgetown, so that runaways or rebel slaves could be whipped and punished until their owners came to collect them.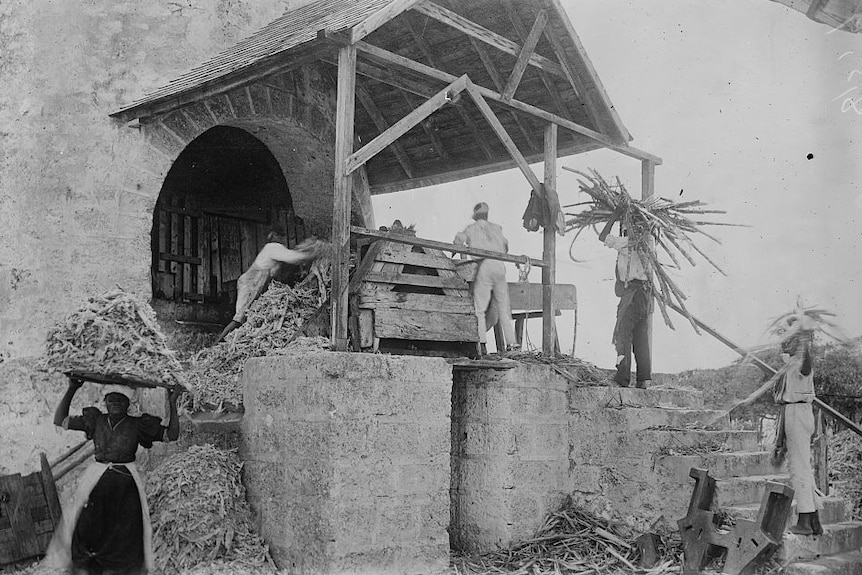 As slavery started to end in the British Empire from 1833, the government took out a loan of about $4.25 billion in today's money so they could pay reparations. 
Compensation was not given to enslaved Africans, but to their owners for the loss of their "property". 
The Cumberbatches reportedly accepted a payout in 1834 that would today be worth about $6.38 million. 
Benedict's 'pretty dodgy' family history
Although both of his parents — who are also actors — changed their last names to avoid questions about their ancestry, Benedict has never attempted to keep his family legacy a secret.
"When I became an actor, Mum wasn't keen on me keeping it. 'They'll be after you for money', she used to say," he said in 2007. 
"Reparation cases are ongoing in the American courts." 
Early in his career, Cumberbatch was drawn to roles in historical films that examined the stain of slavery. 
In 2006, he starred in Amazing Grace, a British movie about the 18th century campaign to end the slave trade. 
And, in 2013, he played Louisiana plantation owner William Ford in 12 Years a Slave.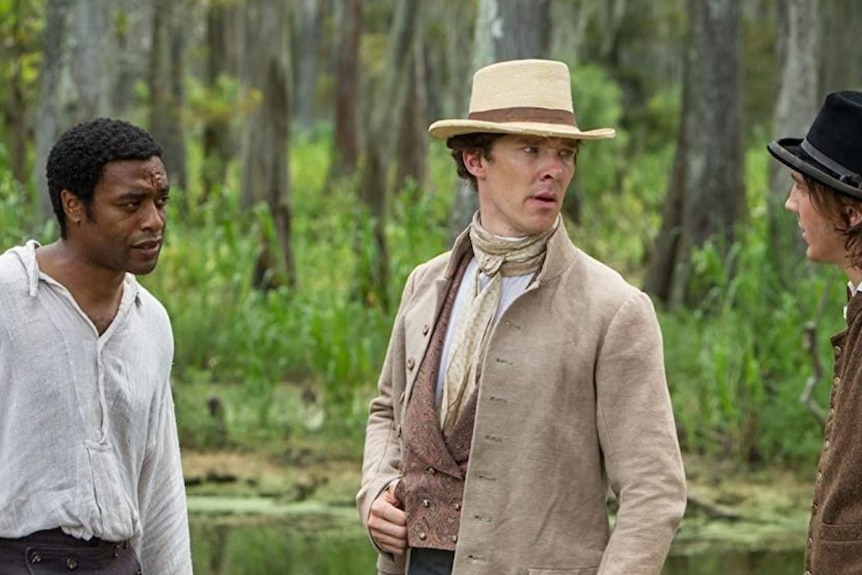 "Maybe I was trying to right a wrong there," Cumberbatch said of his role choices in an interview with Scotland on Sunday newspaper. 
His ancestors were extremely wealthy in the 18th century, but Cumberbatch insists the money mostly ran out by the time he was born and he grew up "definitely middle class".
Despite acknowledging his "pretty dodgy" family history, the actor has expressed ambivalence about the idea of financially repaying their debt. 
"The issue of how far you should be willing to atone is interesting," he said in 2007. 
"I mean, it's not as if I'm making a profit from the suffering — it's not like it's Nazi money."
But, for many in Barbados, those who benefited from slavery owe a debt to those whose ancestors paid the steepest price of all. 
The family legacy that could set a precedent
It was not until 2015 that British taxpayers finally paid off the debt incurred to compensate slave owners. 
However, Caribbean nations — whose people endured unimaginable hardship and indignity — say their debt, both financial and spiritual, remains outstanding. 
CARICOM, a collective of 15 Caribbean nations wants European countries to offer a formal apology, debt cancellation, literacy programs and public health assistance. 
"[The] trade in enchained bodies was a highly successful commercial business for the nations of Europe," CARICOM said. 
"The lives of millions of men, women and children were destroyed in search of profit."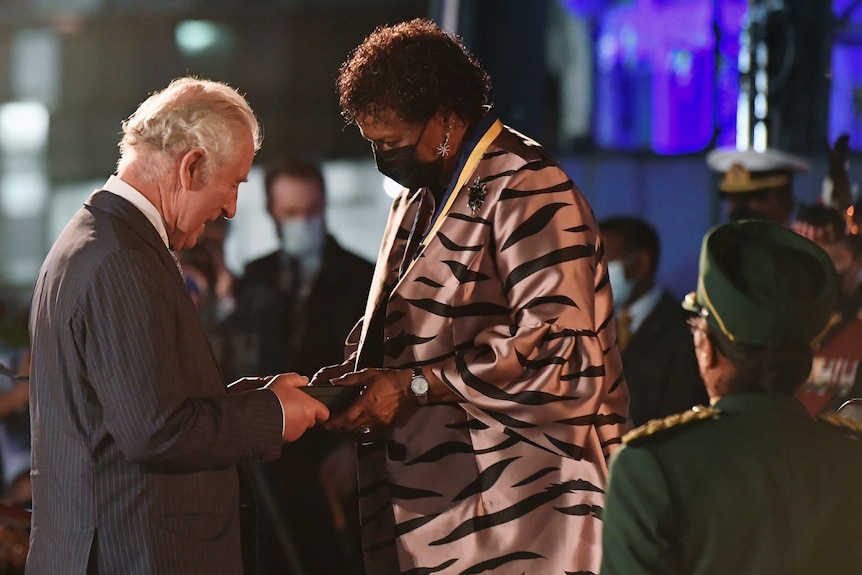 When Barbados removed Queen Elizabeth as its head of state and became an independent nation in 2021, then-Prince Charles flew to the island for the handover ceremony. 
"From the darkest days of our past, and the appalling atrocity of slavery, which forever stains our history, the people of this island forged their path with extraordinary fortitude," he said. 
However, the UK is yet to offer a formal apology or restitution, leaving Barbados to target individuals. 
The first British family singled out by Barbados for possible reparations are the Draxes. 
In the 17th century, the family owned a sprawling Barbadian sugar plantation, upon which an estimated 30,000 enslaved people were forced to work.
Today, Drax Hall is still a functioning sugar farm owned by Tory MP Richard Drax.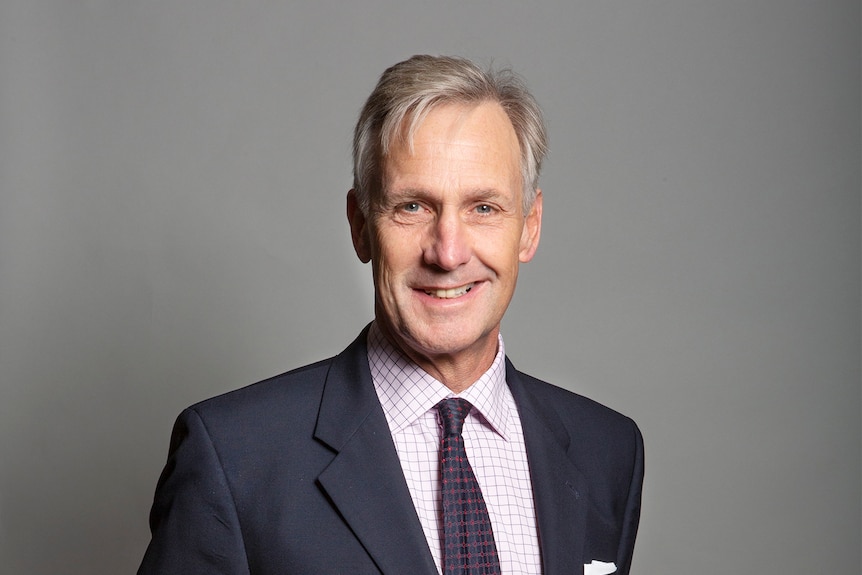 The politician lives at the family's estate in Dorset and is said to be worth close to $266 million. 
Barbados' National Taskforce on Reparations wants Mr Drax to return Drax Hall to Barbados, so that the manor could be transformed into a museum. 
If he refuses, Barbados intends to take him to an international arbitration court. 
A ruling in the island's favour would set a precedent, paving the way for Barbados to pursue compensation from other descendants of slave owners. 
"Any descendants of white plantation owners who have benefited from the slave trade should be asked to pay reparations, including the Cumberbatch family," Caribbean Movement for Peace and Integration general secretary David Denny told the UK Telegraph this week.
The National Taskforce on Reparations has not ruled out pursuing other slave owner descendants, including Benedict Cumberbatch. 
"This is at the earliest stages. We are just beginning," David Comissiong, the deputy chairman of the task force told the UK Telegraph. 
"A lot of this history is only really now coming to light."