Blanchett said it was a film about power and the cost of striving for excellence in a changing world.
"It's a really important thing to grapple with: how can we strive for excellence with the same degree of rigour and demand that excellence takes but do it respectfully?," she said. "We're grappling with those things not just in the creative process in rehearsal rooms.
"We're grappling with this, with one another, in the workplace. This could just as easily have taken place in an architecture firm or she could have been the CEO of a major banking corporation."
To prepare for the role, Blanchett studied the history of orchestral music and famous conductors and learnt a range of new skills – conducting, playing piano and speaking German. But not, as has been reported, stunt driving.
"I don't say I'm very good at many things but I'm a very good driver," she said to laughter. "Although my daughter does sit in the back seat going 'hoooooo'."
Blanchett said filming the conducting scenes at the start of the shoot in Germany was a gift: "I realised what the character had to lose because it is magnificent standing in the centre of that sound."
A long-time Sydney resident, Blanchett has been living in England during an intense period of filming.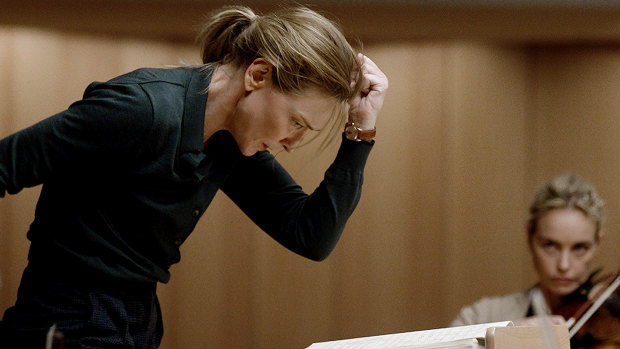 Her latest projects include the Alfonso Cuaron mini-series Disclaimer, playing a documentary journalist, and Eli Roth's science fiction comedy Borderlands, playing an infamous outlaw. She was headed back to South Australia to continue shooting Warwick Thornton's film The New Boy, playing a renegade nun who takes in an Indigenous orphan in the 1940s.
Moving well beyond just acting, Blanchett is an executive producer on Tar, Disclaimer and a politically charged documentary she has narrated, Ukraine: Life Under Attack, a producer on The New Boy and has a climate change podcast.
Loading
In North America, Tar has opened strongly on limited release. In this country, the cinema release has been strategically held back until a day after the Oscar nominations are announced, on January 26.
A cultural guide to going out and loving your city. Sign up to our Culture Fix newsletter here.
Email Garry Maddox at gmaddox@smh.com.au and follow him on Twitter at @gmaddox.