NSW Commerce Minister Stuart Ayres went on the radio to try to defend his role in appointing John Barilaro to a lucrative $500,000 job in New York.
Ayres has come under scrutiny in recent days after a cache of internal documents revealed he helped develop a shortlist of candidates with department head Amy Brown.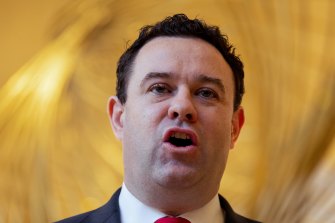 The trade minister told 2GB that only one person in his own party asked him to stand down after the revelations and said he had the "full backing" of NSW Premier Dominic Perrottet.
"He has been a great support throughout this exercise," he said.
As previously reported, documents have emerged that Ayres texted Barilaro an advertisement about the commercial role he was later appointed to. But the Minister for Commerce insisted he had told the former NSW Deputy Premier he would have to apply as a private citizen.
Loading
This morning Ayres said if he could go back in time he would tell Barilaro it would be too politically sensitive for him to apply for the role.
"I wish I could go back and say to him, you probably shouldn't do that, but that still would have been his call and he always, no matter what happened, [he] should have the right to apply for a position that is accessible to everyone in the community," he said.