George Russell leads as Lewis Hamilton returns to contention after an incident at the start of what was a chaotic opening of the Brazilian Grand Prix.
Daniel Ricciardo said sky sports before the race he had hoped to earn points on Monday morning, but any chance of that happening has already vanished.
The Australian crashed with Kevin Magnussen, who had a dream start to the weekend, seeing the safety car go out and both drivers sent out of the race.
RACE CENTER: Live updates, starting grid and timing from the Brazilian GP
Watch all the practice, qualifying and races of the 2022 FIA Formula 1 World Championship™ live on Kayo. New to Kayo? Start your free trial now >
"It's all going to go horribly wrong…it's 100% Daniel's fault," Martin Brundle said in a commentary.
"It was a shame. I have to give this 100% to Daniel, I'm afraid.
"In a way you can say don't roll backwards, don't get your foot stuck on the brakes – he had to let it roll back and get out of the way."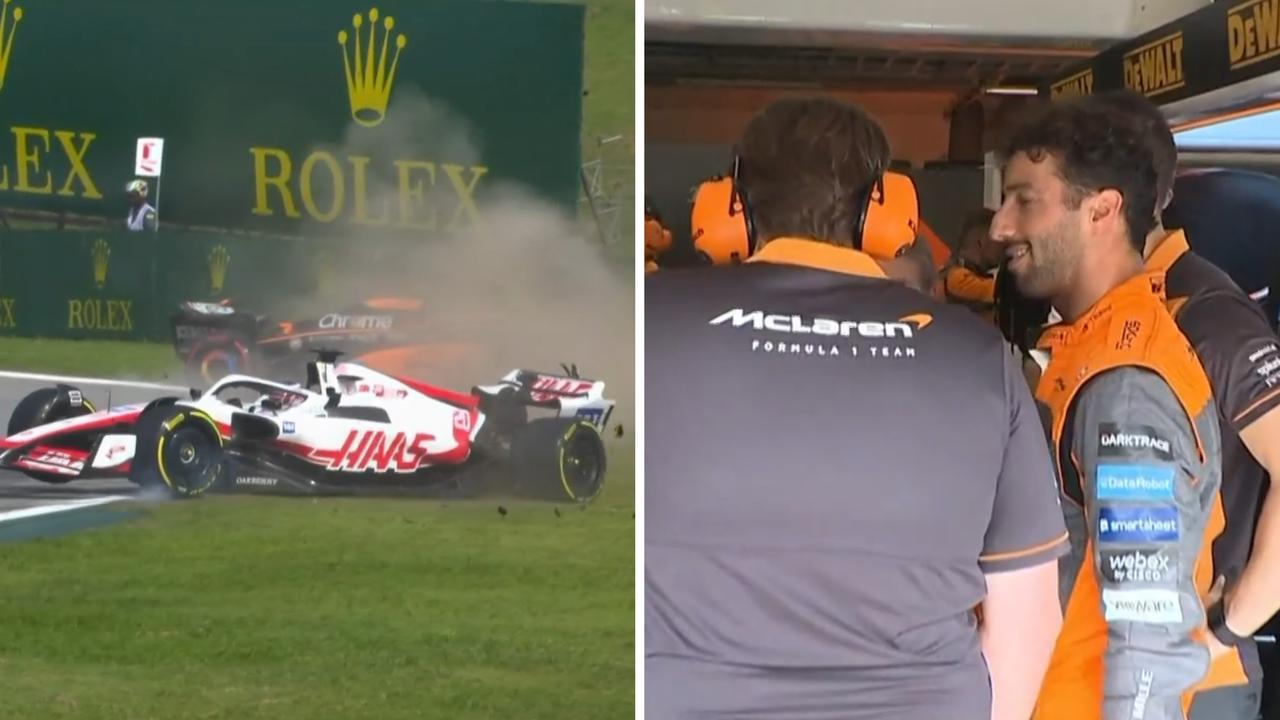 It was just the start of Monday's early race carnage, with Max Verstappen and Lewis Hamilton making contact later as the race resumed after the previous accident.
Both cars appear to have been damaged in the incident.
"It wasn't a racing incident, mate," Hamilton told team radio, with the incident to be investigated by the stewards and Verstappen handed a penalty five seconds.
"Where do they want me to go?" He just shut the door on me, but it doesn't matter," the back-to-back champion said in response.
The drama, of course, was far from over with Charles Leclerc then running off the track and hitting the wall after crashing into Ricciardo's teammate Lando Norris.
Luckily for Leclerc, he was able to get his car started and looked to head into the pit stops to repair any damage.
Stewards would later determine Norris was at fault, giving him a five-second penalty.
It was not the end of the drama for Norris who was forced to retire with an engine problem, dealing a disastrous blow to McLaren's chances of securing fourth place in the constructors' championship.
Elsewhere, Russell had capitalized on the chaos unfolding around him to open up a solid lead at the front of the pack, with his race engineer telling him to "go long" and "open up that gap".
His team-mate Hamilton, meanwhile, recovered from that earlier incident with Verstappen to overtake Norris for fourth place, although it was still Russell's race to lose at the time.
Everything appeared to be going according to plan for Mercedes, with the team claiming there was nothing wrong with Hamilton's car despite early contact with Verstappen.
This was not good news for Ferrari, as Carlos Sainz was forced to pit at the end of lap 17 after appearing to have trouble with his brakes, which began to smoke.
Luckily for Sainz, the problem seemed to be resolved shortly after his pit stop, switching from medium to soft on his exit.
Serez was eventually passed by Hamilton, who moved into second and 10 seconds behind teammate Russell with 26 laps to go in the race at that point.
FULL OVERVIEW:
A thrilled George Russell won Saturday's breathless sprint race at the Brazilian Grand Prix to record his first Formula 1 race victory and set up a thrilling Mercedes v Red Bull showdown on Monday morning (5:00 a.m. AEDT) over the full distance .
Driving with aplomb and confidence, the 24-year-old Briton ignored his spin in the rain in Friday's qualifying session to attack from the start, overtaking two-time Red Bull champion Max Verstappen on lap 15 to take the head.
He then took control to head home four seconds clear of Ferrari's Carlos Sainz with Mercedes team-mate Lewis Hamilton third and Verstappen, the only driver on medium tyres, fourth and Red Bull team-mate Sergio Perez fifth.
With Sainz set to incur a five-place grid penalty for taking on a new engine, Mercedes will lock down the front row of the grid.
"It was amazing," Russell said. "I didn't expect to have that much pace, but I think it shows everyone's hard work and the progress we've made in recent races.
"The car felt so good. Obviously, it's hard to know how Max would have handled it if he had been on soft tires – instead of mediums – but it still feels great.
"It's crazy to think we're both starting from the front row. Lewis did a great job after starting P8, but I'm sure Max will fly tomorrow, but we're in a luxurious position and maybe we can- be dividing our strategy to aim for victory.
It was Mercedes' first victory this year, albeit in a sprint race, and gives them a perfect opportunity to claim their first Grand Prix victory of the season if they can overcome a slight tire disadvantage.
Verstappen and Red Bull will start with two sets of soft tires available while Mercedes only have one, having taken an extra set for the sprint race, and will have to use a "scrubbed" set of soft tyres.
The Dutchman, however, was unconvinced he could find the rhythm to overhaul the revived 'Silver Arrows' and claim a record 15th win of the season.
"Today it didn't work out somehow, but even with the soft tires I was too slow," he said. "We have way too much degradation here, so we have to analyze it and see what we can do.
"At the end of the day, if you have that much degradation, it doesn't matter which tires you put on.
Hamilton, who expects to start alongside Russell in an all-Mercedes front row, said: "Wow, it's been such an amazing week and I'm so happy to be here.
"It's an amazing result for us to be on the front row. It's amazing! From there we should be able to work as a team and keep the guys behind us at bay.
"We are going to try hard and if we can have a good degradation, with some good weather and a fight, it will be great. And a victory here for Brazil would be amazing!
Hamilton officially obtained Brazilian citizenship earlier this week and is looking for a win to preserve his winning record at least once in every season of his career.
Russell, in his 81st Grand Prix weekend, took third on the grid behind early poleman Kevin Magnussen of Haas and Verstappen of Red Bull, but claimed a thrilling triumph in a thrilling 24-lap contest.
"F**king is laughing at me!" Magnussen shock absorbers | 01:31
Verstappen, who passed Magnussen at the start of lap three, was the only leader on medium tires and couldn't resist Russell's pace, then fell back to fourth after contact with Sainz.
He finished ahead of his Red Bull teammate Sergio Perez and Charles Leclerc in the second Ferrari.
"That's how we roll, baby," an elated Russell told team radio. "That's how we roll!" Very well done. Big points for tomorrow – let's go.
His victory was Mercedes' first success this season.
Russell got eight points for his win, Sainz taking seven and Hamilton, subject to any penalties, six.
"Great job guys," Hamilton said. "Congratulations to George – that's brilliant."
In a disastrous sprint for Alpine, contact between teammates forced Fernando Alonso to a pit stop, and he and Esteban Ocon finished 18th and 17th respectively.
With Lando Norris to start the race from sixth and team-mate Daniel Ricciardo just outside the points in 11th, it gives McLaren a huge chance to earn points in their battle with Alpine for fourth in the championship. builders.
STARTING GRID FOR THE BRAZILIAN GRAND PRIX
1st Row George Russell (GBR/Mercedes) Lewis Hamilton (GBR/Mercedes)
Second Row Max Verstappen (NED/Red Bull) Sergio Perez (MEX/Red Bull)
3rd row Charles Leclerc (MON/Ferrari) Lando Norris (GBR/McLaren-Mercedes)
4th row Carlos Sainz Jr (ESP/Ferrari)* Kevin Magnussen (DEN/Haas-Ferrari)
5th row Sebastian Vettel (GER/Aston Martin-Mercedes) Pierre Gasly (FRA/AlphaTauri-Red Bull)
6th row Daniel Ricciardo (AUS/McLaren-Mercedes) Mick Schumacher (GER/Haas-Ferrari)
7th row Zhou Guanyu (CHN/Alfa Romeo) Valtteri Bottas (FIN/Alfa Romeo)
Row 8 Yuki Tsunoda (JPN/AlphaTauri-Red Bull) Lance Stroll (CAN/Aston Martin-Mercedes)
9th row Esteban Ocon (FRA/Alpine-Renault) Fernando Alonso (ESP/Alpine-Renault)
10th row Nicholas Latifi (CAN/Williams-Mercedes) Alexander Albon (THA/Williams-Mercedes)
* Sainz received a five-place grid penalty for an engine change
Follow the Brazilian Grand Prix live below!