The Hockeyroos get their revenge over India in the Commonwealth Games semi-finals, winning a somewhat controversial penalty shootout to reach the final against England.
India shocked Australia with a 1-0 win in their quarter-final at the Tokyo Olympics last year, but there was to be no repeat in Birmingham as Australia won the penalty shootout 3-0 after scores were tied at 1-1 at full-time.
Australia won eight medals across athletics, diving and rhythmic gymnastics on day eight but, for the first time in Birmingham, no gold, allowing England to close the gap in terms of gold and overall medals.
Daniel Golubovic and Cedric Dubler won silver and bronze respectively in a thrilling decathlon, while Australia's divers won bronze in the men's synchronised 10m and 3m events, with Brittany O'Brien taking silver in the women's 1m springboard.
Jayden Lawrence won Australia's first wrestling medal in 12 years with bronze in the men's 86kg class, while Alexandra Kiroi-Bogatyreva added individual all-around bronze to her team silver in the rhythmic gymnastics.
All before the Hockeyroos locked in a shot at their fifth Commonwealth title with their tense victory over India.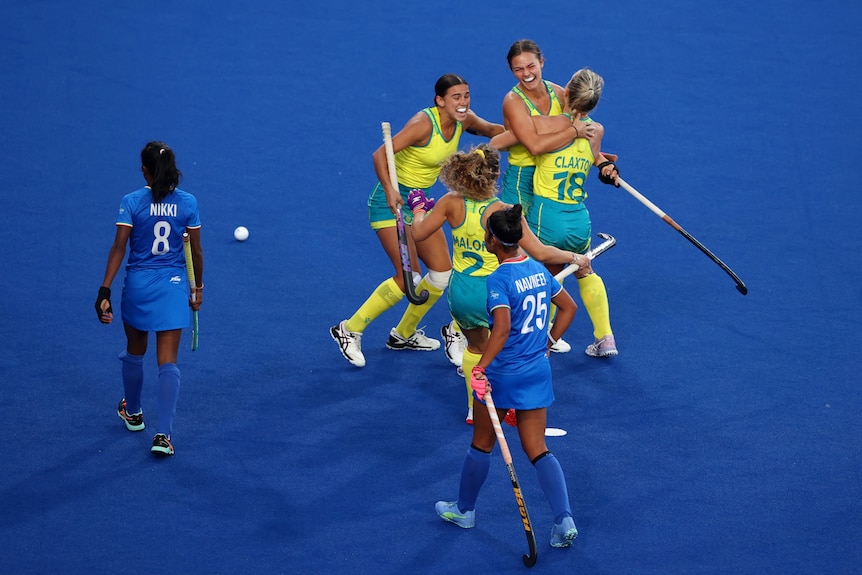 Rebecca Greiner scored what turned out to be the Hockeyroos' only goal in regulation in the first quarter, before the Australians weathered constant attacks from the Indians as well as green cards for Shanea Tonkin and Kaitlin Nobbs.
They also lost defender Karri Somerville after she copped a ball to the cheekbone.
India eventually equalised in the fourth quarter when Vandana Katariya slotted past Aleisha Power, who was replaced by Jocelyn Bartram for the ensuing shootout.
Things started brilliantly for India when Rosie Malone lost control of the ball under pressure from captain/goalkeeper Savita, but Malone sensationally got another chance after the miss.
It turned out officials ad not started the shot clock for her attempt, and she got another go, making no mistake with her second effort.
India ultimately missed all three of their shots thanks in no small part to Bartram's efforts in goal, while Kaitlin Nobbs and Amy Lawton netted for the Hockeyroos to send them into their fifth straight Commonwealth Games final.
Look back at all the action from day eight in Birmingham in our live blog.
Live updates
What to look out for on day nine
With day eight done, we're fast running out of Commonwealth Games, but there's a lot going on on day nine. Here are some of the highlights from an Australian perspective (all times AEST)…
Athletics: World champion Eleanor Patterson is in the women's high jump final from 7:17pm tonight. There are also Aussies hunting medals in race walking, 1,500m and more. Then, in the morning, there's plenty more to come, including Kurtis Marschall and Angus Armstrong in the men's pole vault final from 4:10am.
Cricket: Australia's semi-final against New Zealand starts at 3am. The first semi starts tonight, with England taking on India from 8pm.
Netball: Coming off their loss to Jamaica, the Diamonds face England for a spot in the final from 11:30pm
Hockey: The Kookaburras take on England in their semi-final from 5:15am
Beach volleyball: Men's and women's semi-finals, with Chris McHugh and Paul Burnett facing Rwanda at midnight, before Taliqua Clancy and Mariafe Artacho del Solar clash with Vanuata at 6am.
Diving: There are three finals on day nine — women's 3m springboard synchro (8:46pm), men's 3m springboard (3:00am) and women's 10m platform synchro (4:30am).
Boxing: All the semi-finals, including Caitlin Parker and Tina Rahimi.
So that will do us for day eight. Simon and Kelsie Iorio will be your fearless guides tomorrow, but I'll be back on Monday and Tuesday as we wrap up this festival of athletic achievement.
Athletics: Fifth and a faller in a thrilling 3,000m steeple chase
That's a terrific run from Kenya's Jackline Chepkoech and Uganda's Peruth Chemutai.
The two East Africans flew into an early lead, but Olympic champion Chemutai fell half way around the penultimate lap to allow the reigning U20 World Champion free air to win.
Lizzy Bird of England used the crowd to take a silver medal ahead of a badly injured Chumtai, who battled through to get bronze but needed help after she crossed the line.
That silver is the first ever medal for an Englishwoman in this event.
Amy Cashin got fifth place.
Queenslander Brielle Erbacher crashed early but picked herself up to finish in last, albeit with a smile on her face.
Key Event
The Hockeyroos are into the final after a controversial shootout!
After the upset 1-0 loss to India in the quarter-final at the Olympics last year, Australia gets its revenge with a 3-0 penalty shootout victory after being tied 1-1 at full-time.
Shocking that the shootout started in farcical fashion, with officials forgetting to start the clock for Rosie Malone's first attempt, which she never looked in control of.
But she nailed her do-over, and Kaitlin Nobbs and Amy Lawton were similarly on target, while India couldn't get it past Jocelyn Bartram.
It was an amazing end to a thrilling semi-final, with a goal for Australia's Rebecca Greiner in the first quarter, then the equaliser for India by Vandana Katariya in the fourth to send it to the shootout.
Hockey: Penalty shootout for a spot in the final
AUS: Rosie Malone misses. But she gets another chance because they didn't start the clock. AND THIS TIME SHE SCORES! Wow. Wow wow wow. Hockeyroos lead 1-0.
IND: Lalremsiami misses as Jocelyn Bartram replaces Aleisha Power in goal. Hockeyroos lead 1-0.
AUS: Kaitlin Nobbs scores past Savita. She was in total control there and easily slotted past the goalie for a 2-0 lead.
IND: Bartram stops another one, from Neha. Massive advantage to Australia.
AUS: Amy Lawton scores! Just about a panenka effort past Savita. Hockeyroos lead 3-0. One goal away from the final.
IND: Goalpost and out! Australia wins!!
Key Event
Hockey: Penalty shootout in Hockeyroos' semi-final against India
India equalised at 1-1 through Vandana Katariya in the fourth quarter and defended a short corner with 48 seconds left.
It was almost called a stroke but the goalie got in behind it.
WE'RE OFF TO A PENALTY SHOOTOUT!!
Key Event
🥈🥉 Athletics: Silver and bronze for Australia in the decathlon
 This was so close!
Dan Golubovic took the race to everyone and has come so close to pulling off a stunning overall victory!
However, I think Lindon Victor has done just enough to win overall?
Yes he has!
Gold for Grenada.
Victor was going backwards at the end! But he survived!
Dan Golubovic took it out and gave it everything, he could not have done any more.
His time was 4:30.95, almost 20 seconds ahead of England's  Harry Kendall.
What a performance at the end of two grueling days of competition.
"I had a dig for that gold … there was just nothing in the legs," he says in an interview with Channel 7.

"Two decaths in 12 days, I would not recommend that."
Cedric Dubler blew up badly on the final back straight and looked to be struggling from a fair bit further out than that, but he just did enough to keep hold of that bronze medal.
Alec Diamond came fifth in the end.
Victor finished with 8233 points, Golubovic 8197 and Dubler  8030.
Athletics: NZ 1-2 in the shot put
Hockey: Still 1-0 to Hockeyroos through three quarters
Things are seriously tense at the University of Birmingham Hockey & Squash Centre.
Just one goal in the first quarter is all that separates Australia and India in this semi-final.
England awaits. Who will it be?
Key Event
Athletics: Steve Solomon makes the 400m final!
Get the spikes back out Steve! You're running in the final on Sunday!
Great stuff for the Aussie, who qualifies in the last spot, but just 0.03 of a second, and will race in the final!
Athletics: Solomon still alive…
Steve Solomon told Channel 7 that he was happy to wrap his season up after that semi-final run.
He might still be in with a chance of sneaking into the final though, so he may want to reassess…
None of the non-automatic qualifiers managed to beat his 46.30 in that race, so there is still hope for the likable Aussie…
Jonathan Jones of Bahamas got the win in that second semi.
There's one semi final to go…
Athletics: Steve Solomon will have to wait and see in the 400m
Steve Solomon has just finished in fourth place in his 400m semi final…
It looked like he really struggled in the home straight, far from fluid as the race really heated up having exited the final bend in second.
From there though, he went backwards.
He has told Channel 7 that he just didn't have the running in his legs after a rough six months of injuries and has resigned himself to not racing in Sunday's final.
He ran a 46.30, which will unlikely be good enough to see him qualify, I'd think.
Hockey: Australia gets out of jail to keep lead at half-time
The Hockeyroos have lost their referral pretty dubiously.
Kaitlin Nobbs challenged a penalty corner ruling, and it looked for all money like she'd done so successfully, but the third umpire found a way to confirm it.
All this while Shanea Tonkin was serving time in the penalty box on a green card.
The penalty corner didn't come off for India, and Australia keeps its 1-0 lead at the break despite being pinned in their own quarter of the field for most of the period.
India had five penalty corners in the first half, but couldn't capitalise, while the Hockeyroos' sole goal came from the field via Rebecca Greiner.
Squash: The Battle of the Lobbans
We have a winner in the battle of the Lobbans…
And it's Donna Lobban who gets bragging rights with her partner Cameron Pilley!
The Aussie pair (and defending champions) came from behind to beat Scotland's pairing of Greg Lobban and Lisa Aitkin 3-0.
They won the final game 11-8 to complete the turnaround.
Donna told the Commonwealth Games media team that if Greg won he'd have to make dinner for a month…
Loading
Does that mean dinners are on her for the foreseeable?
Perhaps after the Comm Games are over – Donna and Cameron have work to do and a medal to win for Australia.
Athletics: Decathlon to go down to the wire
Lindon Victor has re-taken the lead in the decathlon after a superb javelin throw.
He leads The Gap's Cedric Dubler by 161 points heading into the 1500m.
Daniel Golubovic is third, just four points behind Dubler after throwing a season's best of 58.26m in the javelin.
Alec Diamond is fifth.
It's ever so close and the 1500 will be a belter when it takes place at 6:30am AEST.
Hockey: Australia on the board in opening quarter of women's semi-final
Looking for redemption for the quarter-final loss at last year's Olympics, the Hockeyroos have struck first in the semi against India.
Rebecca Greiner did the damage from the field.
Key Event
Athletics: Australia will have one runner in the 200m final
Gutting news for Jacinta Beecher, who misses out on a spot in the 200m final by 0.12.
Ella Connolly is the slowest of the qualifiers to make it through and actually ran 0.01 seconds slower than Jacinta Beecher.
But, because the qualification is done on placings in the semi finals (top two qualify automatically, plus the two fastest non-qualifiers) then Beecher misses out.
The favourite Elaine Thompson-Herah qualified fastest.
Key Event
Athletics: Ella Connolly qualifies for the 200m final!
Oh my goodness that was so, so close!
Did Ella Connolly get second there?
YES! By 0.01 of a second!
At the moment, Jacinta Beecher is there too, by just 0.02 seconds…
But there's one semi to go…
Squash: Battle of the Lobbans
Quick update from the University Squash Centre and the wife has levelled things up at one game each after she and Cameron Pilley took the second 8 – 11.
It's coming down to a decider…
Hockey: Hockeyroos semi-final against India underway
This is for a spot in the final against England.
Athletics: 200m semi finals
Jacinta Beecher has gone in the first semi final of the women's 200m and I don't think she's done enough to get through, sadly.
Beecher came home in fourth spot with a time of 23.40, a fair way off her PB of 22.70 but she was running into a serious headwind of +1.9.
Like I said, I don't think that will be enough to get one of the two fastest qualifying spots, but we'll wait and see.