Welcome to Wide World of Sports' coverage of the 'Turf War' between Sonny Bill Williams and Barry Hall.
Plenty of big fights coming your way and you can catch all of it here on WWOS.
We'll have round-by-round updates for the main event and will be across all the preliminary fights.
Several sport stars across several codes are expected to be in attendance to catch this one.
TURF WAR: Sonny Bill Williams vs Barry Hall, live and exclusive on Stan Event, March 23. Purchase the event now at stan.com.au/event
Heaps of interesting match ups on the undercards as well, while several Australian boxing greats are expected to be part of the coverage on Stan's first foray into boxing.
Lightweight world champion George Kambosos will be there along with Aussie boxing greats Anthony Mundine and Danny Green.
The bout could be a springboard to bigger fights in the near future, with Paul Gallen mentioned as a possible opponent for the winner.
Speaking to Wide World of Sports ahead of the bout, Kambosos said he doesn't expect Williams to fight on the inside, and predicts the two-time Rugby World Cup winner to stay behind his jab.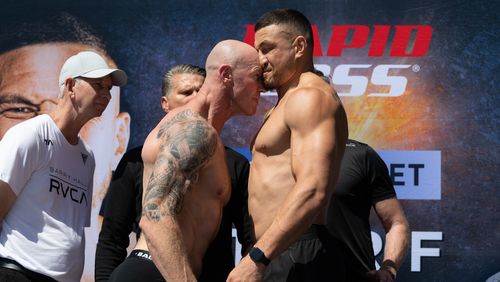 "Sonny likes to box and use his size and reach and get behind the jab. That's his game plan and that's what works for him," he said.
"I don't think working on the inside would work for him. Gallen, yes, he likes it rough and tough.
"Barry will use his reach and go on the inside. You've got to go with what works for you. Are these guys experienced enough to show different looks? To adapt to a different fight in 30 seconds?
"Maybe not because the experience is not there. But you'll definitely see the guys go with what they've worked on.
"It's going to be interesting. They're talking Gallen vs Sonny Bill down the track so this will be good to see where Sonny is."
Hall hasn't fought since his only professional outing – a controversial draw with Gallen in November 2019, while Williams shook off some ring rust in his return last June when he defeated Waikato Falefehi via unanimous decision.