We've seen crocodile wrangler Matt Wright's wife Kaia get down and dirty before on Matt Wright's Wild Territory.
Kaia is more than happy to join husband Matt on his mission to protect wildlife and tackle a mighty croc head on.
But she's not okay when it comes to snakes, which she had to learn the hard way.
Stream the latest episodes of Matt Wright's Wild Territory for free on 9Now.
She discovered an enormous python hiding in her young son Banjo's bedroom, and let out a hellish scream after finding it.
You can watch the terrifying moment in its entirety in the video above.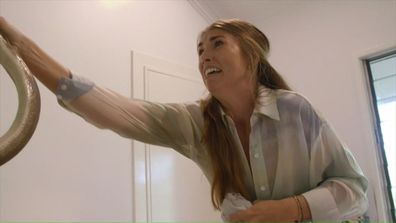 The 32-year-old immediately called her husband Matt, who was away from home.
"You might have to deal with this one yourself," Matt told Kaia, unable to make it home fast enough.
Kaia braced herself as she prepared to face the python on her own.
"Matt's away and I have just seen the mother of all mother snakes. Like I didn't get a really close look at it but it is big," she told the cameras.
ENTER: Win a wild Top End Adventure for you and a mate
She reluctantly searched for the reptile under the couch, but was hesitant to really search for it.
"I don't wanna like fully get in there because I don't really know what it is," she said.
The living room search was unsuccessful, meaning there was just one more place the creature could be hiding – her Banjo's room.
Kaia rushed to her son's room and found him sleeping safely on his bed.
"Hey Banj, I just need you to stay in your bed because there's a snake in your bedroom and so mummy just needs to get the snake out," she calmly told him.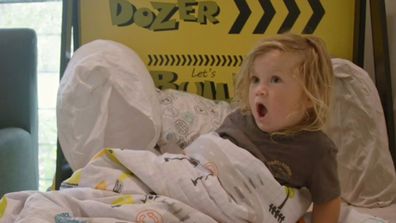 Keeping a toddler in their bed while you try and wrangle a snake, not the easiest task, especially when you're terrified of them.
"Out of all the animals in the Territory snakes would have to be my least favourite," Kaia confessed to the cameras.
"Every time I see a snake it gets my heart racing because you don't know if it's venomous or not.
"We've got some of the world's deadliest snakes."
READ MORE: Terrifying moment Matt Wright accidentally catches a crocodile
Kaia continued her search for the giant python.
"I really hope he's not in the linen cupboard," she said as the search continued.
But sure enough, the snake was in the linen cupboard.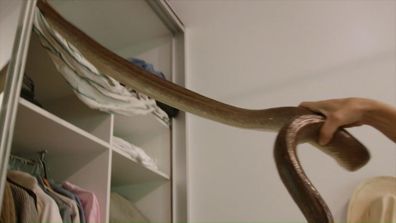 "I can't deal with this I'm having a meltdown," Kaia said as she burst into a fit of nervous laughter.
Kaia yelped as she found the python hiding in a foot spa on one of the cupboard shelves.
But there was some good news on the horizon.
"It looks like an olive python. So, it's not a deadly snake," she explained.
READ MORE: Moment Matt Wright's wife Kaia destroys her dress while wrangling a 'feisty' crocodile on Wild Territory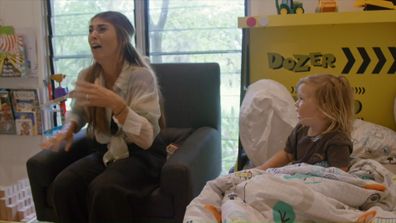 Kaia worked up the courage to grip the python and pulled it out of the cupboard.
"Oh my god it's enormous. Humongous and ginormous at the same time," she squealed.
The terrifying moment then turned hilarious, with a very unexpected reaction from the snake.
"Oh, it's weeing down the wardrobe," Kaia squirmed.
As if things couldn't get any worse, the python left it's droppings all over the inside of Kaia's cupboard too.
To see what happened next, you watch the full episode of Matt Wright's Wild Territory, which you can stream free on 9Now.
Stream the latest episodes of Matt Wright's Wild Territory for free on 9Now.