Tigers coach Damien Hardwick spoke to the media after the game.
It was an eventful final. Did you have a chance to break down the last five seconds and figure out what would have been the most appropriate result in terms of 50?
I don't, it's not my job. There are people on the ground to make those decisions. We're probably like everyone else, we don't know how it was going to turn out. I therefore leave it to you to discover or understand.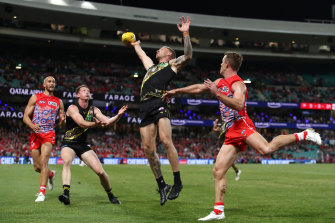 What do you think should have happened?
It's irrelevant.
Were the players particularly frustrated after the game?
We can look at the last incident, but the fact is they were up 30 points. We should have frozen the game. For 75% of it, I thought we were pretty good. We were 25% behind in the third quarter, there are things we could have done better. But at the end of the day, everyone will want to watch the last game and guesses, but when you're 30 points ahead, you probably shouldn't lose.
What changed after half-time?
The mills generated some income for them [in defence]. We probably didn't use the ball as well as we would like. It's up to the coaches to better prepare the players in this situation. In the last quarter, we rectified and threw 2.6 on their six straight goals. So here is the game and it would be wrong of me to say that we will still award five free kicks. We just killed each other at different stages and we expect better. It's hard to lose a match for lack of discipline.
How is Cotchin and has this collision with Buddy affected his performance over the past term?
It was an amazing act and probably sums it up. He was always going to leave. People can watch kicks and marks and handballs, but you watch this and it shows him the great player he is. It was a very solid shot, so he did well to end the game. And contribute too. But I have no update on him.