Fickle designers gave with one hand and undressed with the other at the menswear season in Milan and Paris, which finished on Sunday. On the runway there was an abundance of mini-skirts, long underwear and boned corsets but at Prada, Loewe and JW Anderson, traditional collared shirts disappeared beneath suiting.
Ties have already been demoted from essentials to accessories for dandies and financiers, and now the collared shirt is going, going and almost gone on the runway and the red carpet.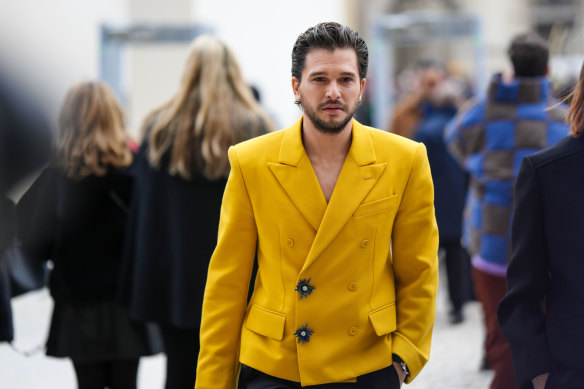 Actor Timothée Chalamet has led the pro-sternum charge at film premieres, with Game of Thrones' actor Kit Harington following suit, no shirt, at Louis Vuitton's runway show. Model Christian Wilkins and Play School presenter Matthew Backer trialled the trend at last week's Sydney premiere of Babylon.
"Queer men have been doing this for years but to see straight men diving in is exciting," Backer says. "Let's get rid of the tropes of men's and women's clothing that we grew up with and all enjoy clothes. We should all wear what feels good and this felt right for me."
This breezy approach has jumped the gender divide where on the other side women such as Cate Blanchett, Jennifer Aniston, Zendaya, Rihanna, and Kim Kardashian regularly champion versions of the power suit where blouses get in the way of a photo opportunity.
Loading
Along with discovering the power of a pectoral smorgasbord the trend is part of the ongoing decluttering of traditional men's staples.
"This is definitely a progression of men moving away from the tie," says stylist Dale McKie, who has dressed singers Guy Sebastian and Isaiah Firebrace in stripped-back suiting looks. "We have gone from men unbuttoning shirts to their waists to getting rid of the shirt altogether."
"You don't need to go the full J-Lo to pull this style off. Look for a double-breasted jacket if you want a higher neckline or wear a waistcoat beneath your jacket for greater definition around the waistline. Having a good physique certainly helps."