US Lt. Gen. Stephen Twitty told US National Public Radio that the same trait was still displayed on the battlefield. "He is unfazed, both in battle and in peacetime," says Twitty.
"I've had the opportunity to serve with him twice now, and…as you probably know, we had the daunting task of defeating Baghdad. And without his leadership, we probably couldn't have achieved this. assignment. "
Twitty remembers driving up the Euphrates Valley, when he and Austin were informed that they were likely to be attacked with chemical weapons soon.
"Everyone thought the chemical attack was coming. And so he was positioned just south of that bridge. A one-star general, the division leader – he was there at the point of attack, the potential attack for the chemistry for us. He was leading from the front. He knew the possibility of us being treated was likely, and he was there to make sure he was going to guide us in that effort.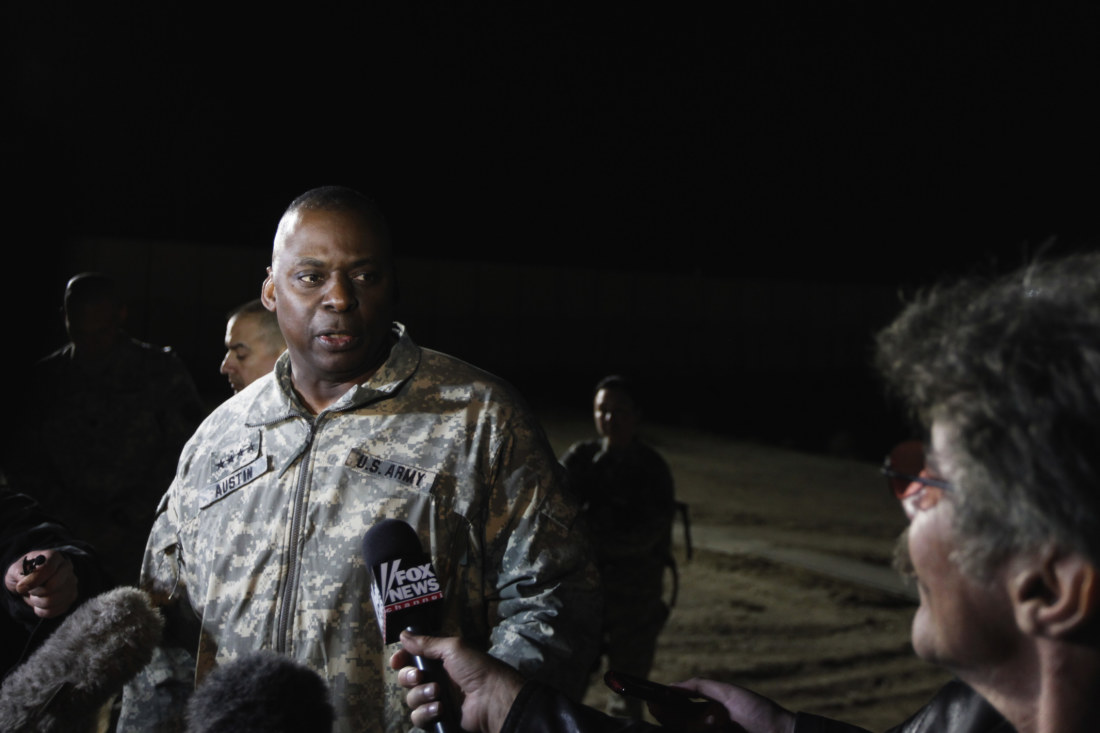 Austin's father served in the Philippines during World War II as a corporal in the US Army Air Force.
"He was one of many American and Filipino servicemen who fought side by side to defeat aggression and secure freedom in the Pacific," Austin said of his father.
One of Austin's first victories was convincing Philippine President Rodrigo Duterte to withdraw a letter ending the country's visiting forces agreement with the United States. Austin walked into a meeting with Duterte and everything he said changed Duterte's mind.
Many Australian servicemen will associate Austin with the 2003 "Coalition of the Willing" invasion of Iraq. According to Austin's Silver Star Award recommendation, he was "the heartbeat of the attack on the US 3rd Infantry Division from Kuwait to Baghdad". . Over the next decade, Austin became the commander of US Central Command, where he led US and coalition efforts to fight ISIS in Iraq and Syria.
A Catholic, Austin regularly attended Mass in Iraq and developed a personal relationship with the late son of US President Joe Biden, Beau. The two were deployed to Iraq and sat next to each other in church almost every Sunday.
Value of field expertise
Austin's appointment as Secretary of Defense was not without controversy. He became secretary only five years after retiring from active duty in 2016, which may be considered too short a period. The concern would be that personal relationships could complicate the civil-military boundaries required of secretaries.
The National Security Act of 1947 prohibits military officers from serving in civilian roles in government for seven years after active duty. To get around this problem, Congress needs to pass separate legislation that temporarily lifts the ban for a specific person. This has only happened twice before: retired five-star general George Marshall in 1950 and retired marine general Jim Mattis in 2017, under Donald Trump.
But former sailor Peter Lucier noted that there is a growing consensus among academics and policymakers with expertise in the field, such as Jim Golby, Rosa Brooks, Kori Schake, Tom Nichols, Eliot Cohen, Stephen Saideman and Loren DeJonge Schulman, that the appointment of recently serving members to the civilian post of secretary has "significant and lasting effects on civilian control of the military in the United States."
Meanwhile, Austin's first visit to Australia next year as secretary will show leadership of a different kind than battlefield tactics. Austin will have the big picture in mind.
As a former director of Raytheon Technologies, he says "we never want to fight yesterday's fight" and thinks evolving weapons such as missiles, drones and nuclear submarines are where the challenge lies. 'coming.
He says FRG weekend that while the first pillar of the AUKUS agreement between the UK, US and Australia is about the critical need for nuclear-powered submarines, the second pillar focuses on developing things that are "relevant for us now and for the future in terms of technologies".
"It's quite exciting. We're thrilled about that and the Australians are too. »