Liam Wilson survived an epic ten-round war to defeat Argentina's Matias Rueda by unanimous decision (97-93, 99-91, 96-94).
In a fight that had it all, both men miraculously stayed on their feet the entire fight despite monstrous firefights.
The win makes Wilson the new WBO International Super Featherweight Champion and likely places him in the top two of the WBO rankings.
Rewatch No Limit Boxing: Liam Wilson vs. Matias Rueda, plus Justin Hodges vs. Ben Hannant, on Kayo. New to Kayo? Try free for 14 days >
Rueda showed his absurd tenacity and ate many of Wilson's best shots, but continued to advance like a zombie and lash out at the Queenslander.
Later in the fight, Wilson struggled to throw punches with his famous left and was seen grabbing it in the penultimate round.
"I couldn't use my jab, I couldn't find my reach (with my left). I didn't feel coordinated (-coordinated)," he said after the fight.
"It was a tough night. I had to face this guy who is a big puncher and find a way to win.
Hodges hunts Hannant in pure SCRAP | 04:13
It was a fight that had a bit of everything in terms of boxing.
Both men threw bombs. Both men hit from close range.
There was even a nervous moment in the ninth round where Rueda appeared to have wobbled Wilson and had the round gone any longer the crowd at the Brisbane Convention Center might have come out devastated.
But that was not to be the case as Wilson managed to tell his kids that dad is a winner again and improves to an 11-1 record while Rueda suffered the second loss of his career and sits at 37-2.
"It's amazing (to move up the rankings). I worked very hard and my goal has always remained the same, to be world champion for all of Australia. For my family, my children and especially my father, and I work every day to make this happen," Wilson said.
"There are certain parts of the fight where I was like fuuuuuu**. But I had to find a way to win.
"I want to go to America. Let it be known that I'm coming for the best – slow and steady or whatever opportunities come your way, you know I won't back down from a challenge. I'll fight anyone, anyone where.
Jeff Fenech said after the fight, "He'll be world champion soon."
Meanwhile, Justin Hodges has called out Paul Gallen for a future Origin fight after defeating Ben Hannant via unanimous decision. READ MORE
AOKUSO ON THE ROAD TO THE SUMMIT
Paulo Aokuso brought down Robert Berridge twice before the Kiwi's corner threw in the towel as the former Olympian continued to shine.
It was only Aokuso's second professional fight, but he looked like he belonged in the short amount of time he was in the ring.
He was light as a feather in the first round and landed several powerful shots on Berridge, although the latter returned his serve with a few punches.
But the second round showed a clear difference, as Aokuso took his game to a different level.
He knocked down Berridge once and the Kiwi quickly got back to his feet.
Aokuso then sent Berridge back to the canvas and he was a bit slower to get up but comfortably beat the referee's count.
Just as the Mt Druitt product was about to knock him down a third time, Berridge's corner stopped the fight.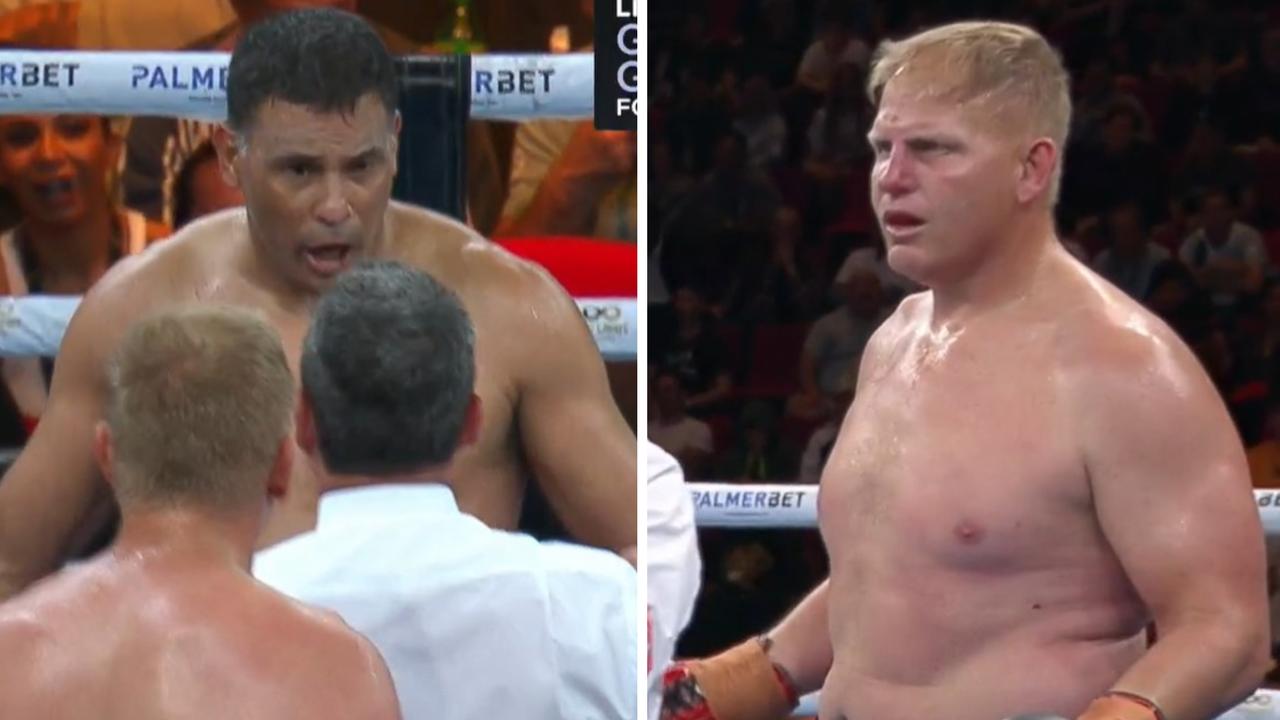 DANCING BOXER'S EPIC GAIT FALLS FLAT IN FIRST THRILLER
Wes Capper may have had the early start of the night as he danced to the ring shaking a propeller hat, but his in-ring ability failed to match the walk.
Capper faced 23-year-old Benjamin Hussain in the latter's seventh professional fight, but it's the youngest that takes the veteran to school.
Hussain had great success finding Capper's face and body, breaking his nose in the early rounds and dominating the middle part of the fight.
However, Capper managed to find a second wind in the latter stages of the fight and landed some powerful punches on Hussain.
In the end, it wasn't enough as Hussain won via unanimous decision.
GALLEN MAKES HODGES' EPIC PLEDGE
Paul Gallen has adamantly said he'll 'pick the piss' out of Justin Hodges as a blockbuster fight between footy legends looms.
The former Broncos legend spoke upfront about how a win would give him a chance at Gallen before the two hung up the gloves for good.
Should that materialize, Gallen would relish the chance to get his hands on a former Kangaroos teammate "legally".
"It would be a lot of fun," Gallen told foxsports.com.au.
"I'll kick his ass, that's for sure. I played a lot of test matches with him and he wasn't a bad guy, but he was one of those guys you'd love to punch in the face.
"To be able to do that legally, that would be pretty cool."
If Hodges emerges with a raised hand, it would certainly bring a strong flavor of home state to a future fight between the two.
So much so that the two made a bet based on this year's edition of the heated state rivalry that would impact the location of their future fight.
WILSON WHEEL OVERVIEW
'THIS GUY IS THE FUTURE': Meet Aussie boxing star Liam Wilson who could 'fight for a title now'
'END A FIGHT WITH A PUNCH': Why 'very dangerous' rival Rueda may end Australian star's world title dream
'I'VE BEEN BUSY': Hannant's bizarre no-show explained as footy star makes Hodges threaten
'STARTED CRYING': Wilson opens with 'appalling' downward spiral
Hodges slams his opponent, looks away from Gal | 02:46
"I made a deal with Justin Hodges," Gallen said.
"If Queensland wins the series, I will fight him in Queensland so he has the hometown advantage. But if New South Wales wins the series, we have to do it in NSW. He agreed. "
He continued, "Fighting one of those two wouldn't be a problem.
"We'll just have to see what happens. I'm still half hoping for a double knockout so I can fight both on the same night.
"Getting to hit two Queenslanders in one night would be fun."
Wilson pumped up to fight for the home crowd! | 03:00
FULL MAP
Liam Wilson defeats Matias Rueda via UD (97-93, 99-91, 96-94) – 10 rounds in super featherweight
Paulo Aokuso defeats Robert Berridge via TKO in round 2 – 10 rounds at light-heavyweight
Justin Hodges def. Ben Hannant via UD (40-36 x 3) – four rounds at heavyweight
Shannon O'Connell defeats Sarah Higginson via first-round TKO – six rounds at bantamweight
Ben Hussain defeated Wes Capper via UD – eight rounds at catchweight
Ella boot def. Stephanie Mfongwot via UD – four rounds at catchweight
Jake Wyllie defeated Patrick Clarke via TKO in round 4 – five rounds at catchweight
Follow tonight's card in our live blog below!