Olympic gold medallist Zac Stubblety-Cook smashed the World Record in the Men's 200m breaststroke final at the Australian Swimming Championships in Adelaide.
Key points:
Zac Stubblety-Cook said breaking the world record was "surreal"

Kyle Chalmers said he will reconsider missing the World Championships after winning the 50m butterfly

If Chalmers changes his mind, pop star Cody Simpson could miss out
His time of 2:05.95 was 0.17 seconds under the old record held by Anton Chupkov of Russia, making him the first man in history to break the 2:06 barrier.
Stubblety-Cook won gold in the event at the Tokyo Olympic Games.
"I always had the goal in the back of my mind to be the first guy to go 2:05 and you don't get many opportunities and tonight was one of them," he said after the race
"Doesn't feel real yet, hasn't really sunk in. Probably sink in over the next few days, still got a few jobs to do before then."
"I was obviously hoping to swim fast and hoping to swim close to my best and that's just something else."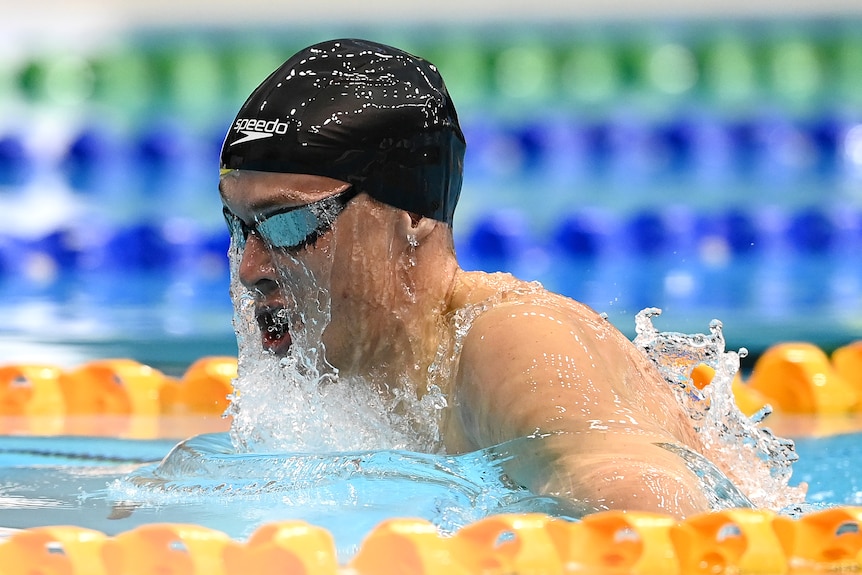 Stubblety-Cook said he was driven by process, not outcomes.
"I've thought about it and tried to be around that process but never kind of be like yeah, that's it, like I want to break a world record, but you know it happens," the understated swimmer said.
Matthew Wilson, who finished third, led out the race in fast time, allowing Stubblety-Cook to power home.
"Felt pretty good at the hundred so I knew I could bring it home, but yeah, I didn't think we were going fast."
'You can't make me out to be the villain': Chalmers could swim in World Championships after all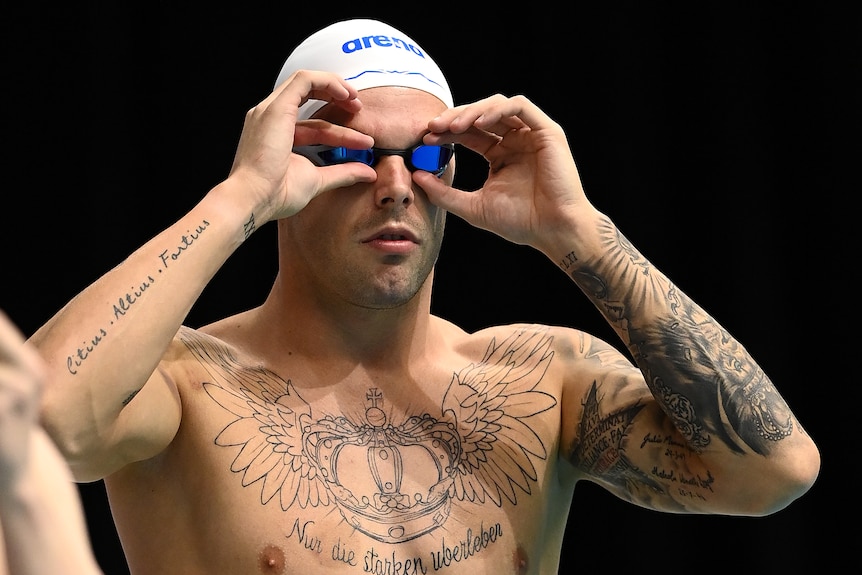 Earlier, Olympic freestyle gold medallist Kyle Chalmers dropped a bombshell, saying he is considering swimming at the World Championships, which would deprive pop sensation Cody Simpson of a spot on the team.
Chalmers opened up to the media about the physical and mental pain he has suffered in recent months after winning the Men's 50m Butterfly event at the Australian Swimming Championships in Adelaide.
On Wednesday, Chalmers came second and Simpson third in the 100m Butterfly behind Olympian Matthew Temple.
Chalmers had previously said he was not going to swim at the World Championships in Budapest this June.
That decision opened the door for Simpson's incredible comeback to the pool after pursuing a successful, decade-long career in music.
But Chalmers says his form has surprised him and butterfly swimming is his first love, prompting a re-think about the World Championships.
"Well, you can't make me out to be the villain, right," Chalmers said if he does decide to compete, potentially robbing Simpson of a spot.
"Unfortunately, I started out as a butterflyer and I've been swimming, I've been on the team now for 8 years, I've watched the 100 butterfly from afar and always wanted to do it, my body hasn't allowed me to do it to this point," he said.
"For me, I have to have a serious sit-down with my coach [Peter Bishop] and my team around me and have that discussion over the next couple of days," he said when asked if he would swim in Budapest.
"Obviously I look at my preparation 8 weeks ago, I wasn't in the pool at all, potentially not going to swim at all this year, potentially maybe never swim again
"My shoulders were in a whole lot of pain.
"I've given everything I possibly can to this sport over this past five-year period, mentally, physically, emotionally and was just extremely burnt out."
Posted , updated
.